How I ended up with $14K in debt is definitely not the situation I would have wished on my life or anyone's life.
There's no short way of telling this story. So I'm gonna tell it the long way! Read along.
My life before debts
Two years ago (2019), I just started a new job in the city. I've been living in the countryside for sooo long that my 2 previous jobs were both minimum wages. I don't have loans or credit cards, and I did not owe anybody money. In fact, in my 2nd job where I stayed for 4 years, I was investing company stocks!
I don't gamble. I don't have vices. I don't even buy a one-time meal that costs above $2! I am thrifty. I rent my own apartment with only an old refrigerator as my only appliance, an old electric stove, no TVs, and no personal computer or laptop. If I had not known any better, I'd tell you, I'm poor.
How My Debts Started
Fast forward to 2019 – September.
I am now working as a city girl (oh, yeah!)- independent, still living in my own apartment, commuting to work daily, and wasting 4hrs a day in the traffic, with one personal Windows laptop I got a year before. I am so excited about the great opportunities and career growth I might experience in a big company! I am still a minimum-wage earner and an entry-level employee but at least I have a few additional allowances that I did not have before. Plus, I received a promotion a year after so things started to go well financially.
And now, I got to eat in quite expensive restaurants whenever I want. I now owned a Macbook, an Ipad, two computers, an extra monitor, two refrigerators (one I gave to my family living next door), another large chest-type fridge for "business", crafting tools like Silhouette Portrait, Cricut Joy, a really big paper cutter (also for "business"). My old Windows laptop, I gave away to a mechanic since it needs fixing, anyway.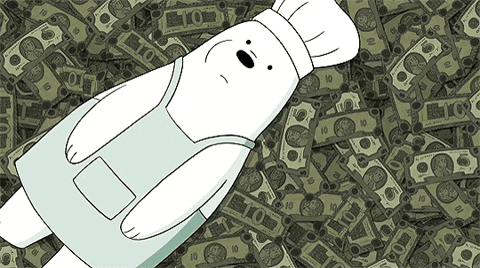 I also qualified for a credit card, took some loans to start off my hobby (I keep saying it's "business"), and franchise some products to sell online. I got to start trading foreign exchange, and buy more home-improving furniture. And I got my own car (but that's another "faith-building" story you need to read so here's the link!) These all happened during the pandemic years when I was thinking the "transportation money" that I was saving is just going to another basket of expenses and that's okay! Because I was supposed to spend that money anyway, only this time for things I want – not on the bus or taxi fares.
2022 – I got a few loans on my plate that I am able to pay. My salary was enough. My boyfriend who also shares some expenses with me is also working in customer service so he gets to support some needs in my apartment. We were getting along just fine with the budget.
How I spiraled more into debts
Until June came…
I transferred to a new job because the old one wants us to go back to the office and I won't deal with heavy city traffic anymore! The new job paid better, higher! I thought it was all going great. But moving to a new job means there will be some delay with the backpay and the new salary from the new company. I wouldn't get that for at least after a month! The first challenge came in, I don't have savings to pay my monthly dues! I have been living month by month relying on the salary I get so now that's delayed my first solution – take up a new unplanned loan while waiting for my backpay and salary.
Come September…
My boyfriend's been working at the office for quite a while (started April, I think), and at this time there are still a lot of Covid-19 protocols set in place and transportation was VERY limited. You might ask, 'where's your car then?' Well, I did not have that til December 2022 (that's why you should read THIS!) So, back to the boyfriend. He wanted to resign. We were sharing our expenses and he's staying in my apartment so I did not want him to just resign because I have not recovered yet from the loans and bills of June, July, and August. He did promise that he will get a job in less than a month. Besides, there is a work-from-home job that he really, really wants to get and his friends have referred him to the boss so it's a sure deal! Not only that, I was qualified for a $1300 loan so I thought, "why, not?" While my boyfriend waits for his papers to get processed and though he does not have a salary now, we got back up money!
You say, "how would you pay, then?" I thought I could squeeze in the budget! He'll get a job in a month anyway! And we'll recover!
Come October…
My boyfriend got a pending application for his "dream job" but he still kept on applying to other jobs. Of course, we have to make sure we got options. But unfortunately, the whole month, all the companies who interviewed him were not work-from-home so he declined (sad!) And the company he would love to work for (let's call it 'the D' lol just go with it) has not gotten back to him! We were still hopeful since his friends were giving him advice like 'just keep on waitin' 'they know about your application' and 'they'll call you.' They even visited their boss' recreational hotel and diving spot so the boss would know my boyfriend and the application may go faster. Well, it paid off. Just the next day after their hangout, HR called him. Good news, right? Efff! He would start on the 28th of November! We're two months down with him having no salary! But, yeah, okay, I'll survive. We will.
Come November…
Surprise!!! My father died.
What!?
He did, really. He died. Heart attack. We don't live with him and we don't really have a great relationship since my parents separated when I was 22. But as the eldest daughter and no one else in the family shouldering the expenses, it was my uninvited responsibility to handle the situation! I am already negative on my budget and this one added to the problem!
If you're from the Philippines, where I currently live, you would know that most parents don't have inheritance, properties, savings, or even insurance. And my father did not work more than half his life! He relied on me, my mom, or his siblings and he got vices plus he gambled. So I became the safety net.
In a span of two days, I tried to come up with ways to get the money needed for the burial and the payment for the lot where his body will be buried. The fastest way was.. you got it.. loans. I took more loans. I already know I would have a hard time paying these off. But at that point in my life, the pressures of being the family's provider, and not letting my father's relatives look down on us, I took the loans.
Come December…
And you know how this is the season of gifts! So with the little money I got and the credits I had, my boyfriend and I still bought gifts for the family. I brought my mom to meet her relatives whom she has not seen for more than 20 years! I wanted us to spend our December renewing our energies from the stressful November. Also at this point, my boyfriend has started training in his job at The D. But even when he got a job, a lot of our expectations were not met. But there's no point stopping now and looking for another job so he continued with training besides they get allowances for training anyway, not enough but at least there's some he can use for the daily needs at work. The only problem now is that he needed to stay in The D's home office for 3 long months and can only go home on weekends. That's a challenge for me! (Read here why…)
But there's hope! A car salesman reached out to me and said he can offer me a car loan with no downpayment and I wouldn't have to pay until 3 months after!!! What a deal! So I grabbed it. But I think this time I prayed for it. I asked God to not allow approval unless it is His will. I delayed the submission of my documents, deliberately, because somehow I'm thinking that despite my boyfriend completing his training in March and we're probably gonna recover our finances by then, I still feel a bit anxious about our current status.
But, amazingly, the car was approved! And now my boyfriend won't have to worry about going to their office for the next 3 months! Great!
And it's 2023 – Happy New Year, everyone! lol!
January was the getting-by season as we patiently wait for my boyfriend to finish training. My salary was covering the debts, the credit card, and the bills. Then I received an email from my company that somehow, my previous company did not pay my taxes and that my current company will deduct from me every payout for the next 5 or 6 payouts! I hurriedly checked my old payslip from the previous company and from there I knew they deducted my taxes!!! So I reached out to HR and inquired. To my surprise, I was told it was refunded when they gave me my back pay. They really did. I just did not realize that it was there. I could have checked better but now I am facing the consequence of another expense being deducted from my salary.
How Debts Affected My Emotions What I Did to Face It
I am anxious. I am helpless. My due dates were piling up. And I have exhausted all renewable credits and loans to pay off the others, yet, I have not closed the loans. I had to keep renewing so I won't be delayed and the creditors won't harass me and call all the time. It went on and on until now, March. I'm exhausted getting worried all the time trying to make ends meet.
I pray and pray. I try to build my faith back up and hope to understand the fullness of the situation. To add up to my frustration, my boyfriend's phone broke! It was not an iPhone but it was a good phone which I usually borrow to take photos of products because it had great resolution. We had a spare phone which is a bit low-end but can still work so he has been using that. But guess what, 3 days before I was writing this, the low-end phone screen also cracked! Just luck, right? lol
Oh, God. I don't understand the situation and how to resolve all this!
How did I know I'm drowning in 14,000 dollar debt?
Budgeting & Spiritual Actions I Took to Handle Debt
I started to arrange my budget plan to compute the total dues for all principal and the interests of the debts and loans that accumulated. Not including my car loan, the total of all of them reached up to 624,000 PHP or if we round this off & convert it to USD becomes a $14K debt.
For a couple of weeks now I have been praying and seeking God for help. I have repented of overspending and taking control of my finances that I have not surrendered to Him. I have cried so much in the past weeks that I think every single day I tell God that I want to trust Him with this situation.
I have a car loan to pay by end of the month. I have debts that have been overdue for days. I keep praying and asking God what to do. People call my phone day and night to remind me of my dues. I intend to pay them all if I could! But I have nothing, literally. I've tried to post my stickers on our local online store and even post on Tiktok but I am not getting any sales! There is something else I feel God wants me to do but I am afraid and my mind tells me that it is not the best logical way to do it right now!!! And how many of us know that when we are afraid to do something and it seems like the action is not the most logical at all, there really is a high chance that it is what God wants us to do? Remember the story of Moses and when God spoke to him thru the burning bush? Moses was called to warn the Pharaoh to turn away from his sins. God called someone who was afraid to speak, someone who ran away from people because of his sin, to go back and be His spokesperson. That's where I stand now. I am so afraid of the situation I got myself into! I really, really, messed up!
But God, in my quiet times, has been speaking to my heart. When I pray and ask Him what to do with my problem, His answer isn't "apply for a bigger loan that would cover all." In my head, that sounds most logical. I consolidate my loans and then apply for a bank loan that can pay them all so I would only have my car loan and the new loan to pay for. It seemed easy! I just need to pray for God to touch the hearts of 'whoever' in the banks so that they would approve my loan.
No, that isn't God's answer.
He brings me to my purpose. He brings me back to a vision of what my life would be like years from now. You know what, no matter how illogical this may be, God nudges my heart to write. How on earth can that pay for my debt!?
Imagine, if I write a blog today, blogs take months for algorithms to pick up! If I create digital planners or prayer journals or even write a book to sell online, that would take a long time to create, and even if I have those digital products ready, I don't have the marketing skills! And not only that, I wasn't trained to write! I wasn't. No, I took Psychology in college not Masters in English or Creative Writing or whatever! Just look at this long post you're reading! lol. If you're still reading, I appreciate you so much!
End of the day, what I feel God is telling me to do does not align with the solution I need for my problem.
But I choose to trust. I choose to have faith. And I choose to obey.
My faith is that before the end of the month, God will let me see a breakthrough from all my debts, and even my car loan will get paid!
It is so difficult to hold on to something that I am not sure if it will happen or not. But that is faith.
Right? So I go by faith in this season of my life!
I would implore you to do the same. Our situation might not be the same. I could be in the worst or you might be in the worst place than me. All I know is you are not going through it alone. We are facing different battles in life but we face it with faith. I tell you, it is hard!
Me, I still have a lot of anxious days. But I also have some mornings where I just choose hope. It's out of my hand, I'd say. God will see us through our situation. Stay on your course. Listen to God. Do what He tells. The same way He tells me to write when I could have been Googling work-from-home jobs right now. Do not give up!
I tell myself, in my head, to just have faith.
Do not lose this testimony of breakthrough just because you want to resolve things on your own. I tell you, there is no way I can come up with my car payment by the 29th of March. There's no way I can raise $14K before this month ends but until I see that day I will keep my faith. Do not lose the testimony because you decided to take things into your own hands.
God's Revelation to Me About Debts & Financial Issues
You know what God revealed to me as I was praying and crying about my situation. He showed me a vision of His hands coming to help me. A vision of His hands ready to rescue me.
And He revealed this in my heart…
When the time comes that I fulfill His calling for my life, when the time comes when I and the Church needs our own building to cater to people who are seeking Him, to have a place of refuge… we won't only need $14K to build that building, we'll need even more! And that money won't be coming from just one pocket. That money won't be raised by human efforts alone.
God was teaching me desperation and prayer, trusting in Him when there's nothing else I can do. I know my situation end up in victory. I just know it in my heart! This is my learning process with God.
He is showing me how to pray and how to rely on Him, not on PEOPLE, not on the CHURCH.
There's nothing wrong with the Church helping one another, God loves that! And he even commanded that, for us to love one another. But sometimes, when you know someone in the Church who could be a potential person to ask for help from, wouldn't you want to run to that person?
What I am trying to say is, the Church, should not be looking at each other for hope. We can be encouraged by another person's life and their testimony. But be careful of making idols out of people, or in some cases, church leaders.
Faith Declaration on My Debt Situation
In this season of my life, I decided that I would only look to God. I will not forfeit the testimony. I declare my dependence is on God. Only He is my help in present troubles.
And I pray the same for you, my dear reader.
You've come this far with reading my diary.
And I leave you with 3 things:

1. Our situation, no matter how difficult, should bring out faith, hope & dependence on God.
2. I encourage you, be open to the Spirit of God, there's a message in your situation. Ask Him.
3. The God who helps me is the God who'll help you. I believe that much. You will see a breakthrough.
I wanted to end this diary entry with a prayer! Listen to this. I prayed for you!